I am retired and not looking for anymore work.
The places I go and the work I do is not "Radio Active" for me, so I have to concentrate my radio habit, when I am home,
between my other duties, life, and Family
My hobbies are Amatuer Radio, Camping, Fishing, and a lot of other stuff.
I also write to a blog, sometimes about Ham Radio, Travel, Environment, Investing, or anything that comes to mind.
Check out the blog above link
When I find the time I make "pop-can" airplanes. I am not as good as some others but I have fun at it.
Here are a few of my planes. I have several done in cans from when I worked in Africa. Pop-Can Airplanes

I had to make all of these using limited tools by hand as I made them in my evening hour in Africa.
I hope to make a few to sell as time permits, if you are interested contact me via this site. Or use "mycall" at
arrl or "mycall" at yahoo.

I hold the license of WD0AJG. I have never changed my call, although I have changed my permanent location many times.

I am most active, when home, on the HF bands doing PSK or JT65 or any of the newer JT modes, or working with antennas, or projects.
I did complete 9 bands WAS check my QRZ page. That was difficult but accomplished after my retirement and before my current move. I now
need to start all over on a new set of projects. I have my latest log here: WD0AJG's last log upload
If you review the log you will see there many be extended periods of "in-activity" but don't
worry I will be back on the air at some point, it is just that some other project took presedent on my time.
Here are some of the Latest Amatuer updates on the internet:


| | |
| --- | --- |
| | |

This was an old QSL card design I had in Perryton, TX.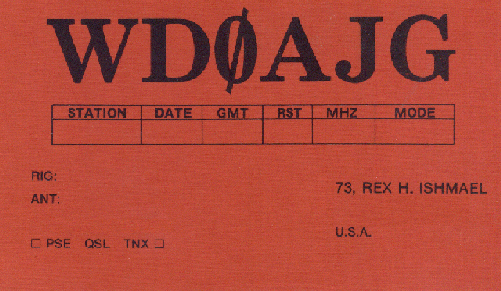 I have run an amatuer radio packet bbs and have been involved in working with packet networks for many years.
Currently I am working on an APRS weather,digi,igate station. WD0AJG WX on APRS

When we go Camping it most often is in Colorado, and our first stop there is usually in the Canon City area.
I have family there to visit and get a few nights of "free" camping.
We travel as much as we can, but not as much as we want.

I used to travel extensively with my job, and have seen some nice places and some not so nice.
As a family we all went to Alaska and got to go on this boat to see whales, seals, puffins and numerous other sites...
and as part of my job I got see the windmills of Holland.







Last Correction!: November 26, 2011