Our son Ryan is 23 now and attending Oklahoma State University.
I think he started on the 5 year plan for graduation but some how it has turned into the 10 year plan?

He still has a big appetite for cars!.....
This is what he thinks he should have....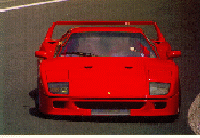 This is what he got first..... And he put these darn things in that little space!
He now drives our old 1994 Camry (cause it was paid for)!
This was Ryan a few years ago...........Young Ryan
Here is a more current picture of Ryan ...
Last update 02/25/2004