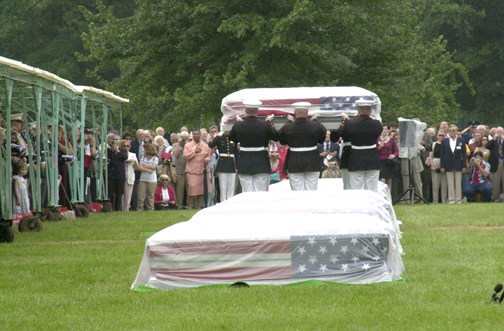 Makin Raiders laid to rest
Submitted by: Headquarters Marine Corps
Story Identification Number: 2001817171618
Story by Lance Cpl. John R. Lawson III


ARLINGTON NATIONAL CEMETARY, Arlington, Va. (August 17, 2001) -- On this date in 1942, two companies of Marine Raiders attacked the Japanese on the Makin Atoll, and 30 of them didn't return.

Today, at Arlington National Cemetery, the Marine Corps paid its respects with a ceremony it had been waiting and hoping to give for 59 years.

When the Makin Raiders gave their lives, they proved that they were "always faithful to each other, always faithful to the Corps, and always faithful to their country," said the Commandant of the Marine Corps, Gen. James L. Jones.

General Jones addressed a standing-room-only crowd of approximately 700 people in Ft. Myer Chapel during a service that preceded today's graveside ceremony.

"Marines of today draw inspiration from the 'Greatest Generation,'" Gen. Jones said. "We learn from their courage."

General Jones recounted how the raid lifted American morale early in the war and reassured everyone that America was ready and willing to take the fight to the enemy.

The "fog of war" was very much a factor during the raid. That's why 19 Marines disappeared for 57 years, nine Marines were captured and executed, and two Marines remain missing.

The remains of all of the Marines had seemed hopelessly lost, especially after an unsuccessful search in the late 1940s.

However, what Gen. Jones referred to as "the spirit of Semper Fidelis" is a two-way street. When U.S. Army technicians got a lead in 1999 on where island natives might have buried 19 of the bodies, it was only a matter of time before this group of missing Makin Raiders would get their belated homecoming. They had been faithful to the Corps, and the Corps would be faithful to them.

The Army's Central Identification Laboratory, with assistance from many other government agencies, conducted exhaustive identification procedures at Hickam Air Force Base in Hawaii. Finally, the checks were complete, and the time had come to show gratitude.

The families of six of the Marine Raiders elected to have private burials. The remains of the other 13 Raiders arrived for burial at Arlington National Cemetery on Thursday. A Marine Corps KC-130 transport plane flew the remains from Hawaii to Edwards Air Force Base in Maryland.

The Marine Band, more popularly known as "The President's Own," and a detachment of Marines from the Marine Barracks in Washington, D.C. participated in a ceremony on the tarmac.

"Thank God they're home," said Col. Joe Griffith, USMC (Ret.). Colonel Griffith is the oldest surviving participant of the Makin raid. He had just been promoted to captain at the time of the mission.

Colonel Evans Carlson was the architect behind the Marine Raider concept as well as the raid on Makin. His son, Evans Carlson, who retired as a Marine colonel, also attended Thursday's tarmac ceremony.

"I'm awfully glad to be here," Col. Carlson said. "For me, it's a very moving experience."

Colonel Carlson said his famous father would have been pleased as well. "Dad regretted every casualty, however they were caused, wherever they occurred," he said. "His feelings about this were extremely strong."

Friday's ceremony, which also featured the Marine Band and a detachment from the Marine Barracks, showcased the appreciation the Corps has for its fallen warriors.

A 21-gun salute climaxed the ceremony for these Marines: Capt. Gerald P. Holtom, Palo Alto, Calif.; Sgt. Clyde Thomason Atlanta, Ga.; FM1 Vernon L. Castle, Stillwater, Okla.; Cpl. Daniel A. Gaston, Galveston, Texas; Cpl. Edward Maciejewski, Chicago, Ill.; Cpl. Robert B. Pearson, Lafayette, Calif.; Pfc. William A. Gallagher, Wyandotte, Mich.; Pfc. Kenneth M. Montgomery, Eden, Wis.; Pfc. John E. Vandenberg, Kenosha, Wis.; Pvt. Carlyle O. Larson, Glenwood, Minn.; Pvt. Robert B. Maulding, Vista, Calif.; Pvt. Franklin M. Nodland, Marshalltown, Iowa; and Pvt. Charles A. Selby, Ontonagon, Mich.

Sergeant Thomason distinguished himself during the raid as the first enlisted Marine to earn the Medal of Honor in World War II.

Melvin D. Heckt, the president of the United States Marine Raider Association, had these words for the Raiders lost during the attack: "We salute you, comrades. We salute you as Raiders, as Marines, as Americans, as men."

-30-